Here's an antisymmetric Tapa. I tried to keep the puzzle easy and the solving path flowing but not boring, please do tell if I succeeded.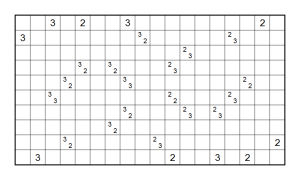 (click for full size)
Rules:
Shade some cells to form a continuous wall that contains no 2×2 squares of shaded cells.
The clue numbers tell the size of continuous groups of shaded cells in the eight cells around the clues. Two groups must have at least one unshaded cell between them.
The clue cells themselves remain unshaded.
EDIT: The first version was ever so slightly ambiguous, so I had to remake the puzzle. The old version is here, if you're curious.