This is a puzzle I made about a month ago. It's one of the few puzzles I feel I actually constructed, as opposed to just browsing the shelves of the Puzzle Library of Babel, trying layouts and seeing what works out.
I set out to make a harder version of Hitori. I'm not quite sure whether the puzzle successful or not, as it isn't that hard. Adding blank cells as givens might improve the puzzle.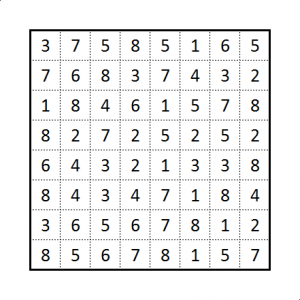 Rules:
Place mirrors in some of the cells such that no two equal numbers see each other.

The mirrors are right triangles such that the hypotenuse cuts a cell in half diagonally.

A mirror in a cell doesn't obscure the number it's on: if the hypotenuse can be seen, the number can also be seen.
As in Hitori, two cells with mirrors can't be orthogonally adjacent, and the empty cells must form a single polyomino.
I hope I was clear with the rules.