Balance Quest (BQ) puzzles are like jigsaw puzzles, but using numbers instead of pieces.  I've designed them for players who enjoy recreational math and logic puzzles like Sudoku.
Original Printable Puzzles                                                                                                          Solution
Lucky Charm Puzzles for Kids                                                                                            Flower Petal Puzzles
Simple, yet challenging Puzzles                                                                                         Gargantuan Puzzles
                                Pyramid Puzzles                                                                                        Scaffold Puzzles
Below are my two newest BQ puzzle types as of 10/15/14:
Checkerboards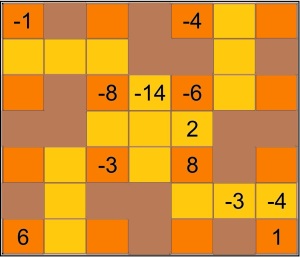 Pinwheel Checkerboards
Puzzle Rules:
Using simple addition, fill in each blank cell, based on the sum of the half-sized cells next to it.
The darker cells on the edges must contain every number from -16 to 16 (or for smaller puzzles -8 to 8), except zero, with each number appearing only once.
Leave no duplicate numbers in the light-colored cells or in the darker cells.
There is one unique solution.
(Up to four difficulty levels are available)
Puzzle related links:
Play the Puzzle Live on Puzzle Baron
Update as of 12/5/14:
Thanks to Auspac Media for introducing the Interactive Checkerboard puzzles in Australia.
Update as of 11/29/14:
Thanks, Kim, for your posts of the Checkerboard puzzles on "Puzzle to Print".
Update as of 11/24/14:
Thanks, Doug, for posting the Checkerboard Puzzles on "Printable Puzzles" site.
Update as of 10/2/14:
The Windows 8.1 app is now available in the Windows store.  Thanks to Cameron Stair for helping to make this project possible.
Update as of 8/4/14:
Update as of 7/8/14:
"Great puzzles, we like them very much".
Margret at Auspac Media, Australia
     Thanks for featuring them and hope Aussies enjoy playing Balance Quest also…
Stephen, thanks for your very positive comment.  I have quoted you below:
"Balance Quest has a fairly prominent position on our "Puzzles" page on that site, a larger number of LP users are clicking over to try BQ.  (LP.org is now our biggest traffic source for BQ.)"
By the way, your redesigned site, logic-puzzles.org is beautiful and now has a wide selection of logic puzzles for those interested in playing.
Update as of 11/29/13:
Mr. P. , you have a great math and puzzle site.  I hope your guests will enjoy playing a few BQ puzzles. Thanks for linking and posting a few sample puzzles:
Update as of 11/22/13:
write-up and for including BQ on both of your BLOGS:
Update as of 11/21/13:
Best wishes to Kim at "Puzzles-to-print.com" for posting her BQ page.
Update as of 11/20/13
Thanks, Dave Fisher at "puzzles.about.com" for this sweet review of BQ:
Thanks Erik @ "Math in English" for your nice write up.
Thanks for linking from from "The Math Form" @ Drexel University
Detailed Instructions and Sample Puzzles: