Welp. I was going to call this one Mystery Tapa but then I saw GMPuzzles' Sunday Surprise posted yesterday. What a coincidence. I started making this one last Thursday, before knowing anything about any upcoming Sunday Surprises anywhere.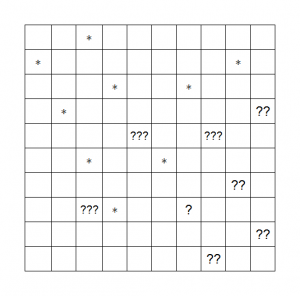 Rules:
Regular Tapa rules apply.
Question marks represent nonzero integers.
Asterisks are wildcards: they represent a nonzero amount of question marks.
No clue may appear multiple times, hence the name.
Gah, this puzzle took a lot of wrangling to make it work. I gave up on having a symmetric clue pattern.